Happy Earth Day!
All of us here are proud to announce that dealsnapt has been able to help businesses eliminate printing on 17,765,375 sheets of paper over the past 12 months!
That's the same as a stack of paper over 4 Empire State Buildings tall, and equivalent to saving 2,127 trees!!!
We would like to send out a big THANK YOU to all of our businesses!  It just goes to show how your small efforts can have a huge impact.
Don't forget to refer other businesses to dealsnapt, not only will you get a free month added to your account, but you'll also help us to double or even triple the number of trees saved next year in your area!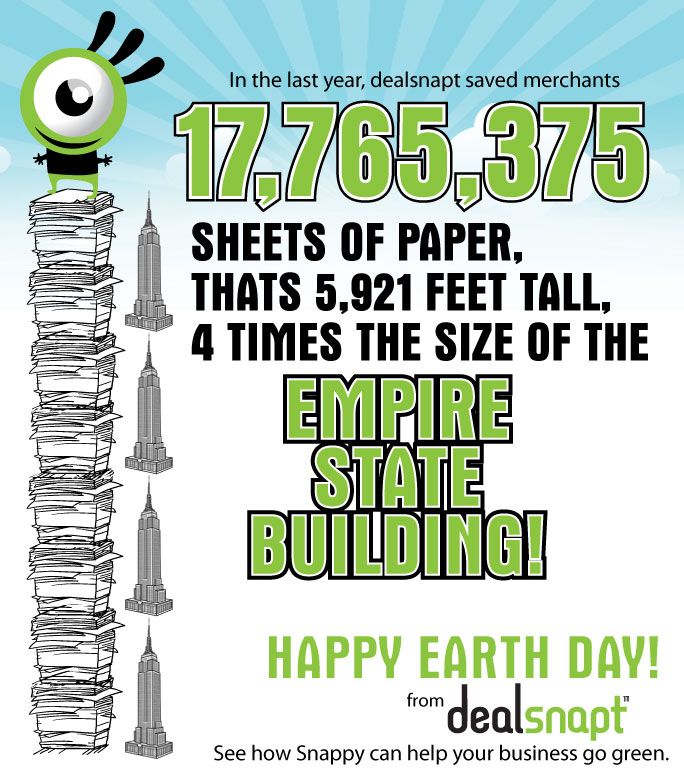 If you would like more information on how dealsnapt can help your business GO Green visit us online to 
Sign Up Now
 or call our support line at 1-855-637-6278.
________________________________________________
See what businesses have to say about dealsnapt...
What if you could...

What If?
Followers are loyal customers

Get your customers to Follow your business on dealsnapt to build your loyalty program AND to receive credits on your renewals.

How does it work?  In one simple TAP!

When in your store profile on the dealsnapt app tap either of the 2 RED ovals shown to the right.

The user is now a follower of your business and can receive exclusive offers and events. In addition, for every active Follow on your business, you could receive $1 in credit to your dealsnapt renewal.  For example, ONLY 2 of your customers following your business each day  would result in a FREE year at the standard package level or  ONLY 3 at the Premium level.  It's that simple!

A healthy community of returning customers is better for your business.

We also can help you migrate your email subscribers to this much more effective marketing model:  local, instant and affordable.

If you want to incorporate your existing, inefficient, non-productive, non-income earning email list in your dealsnapt platform we we will do that for you.  

 Contact us
We are committed to support local businesses, their communities, and the environment around them.
Sincerely,
    the dealsnapt team